comment to be added.
add me first.
common interests please.
Current Mood:

moody
10 October 2008 @ 03:47 pm
BOSTON (Reuters) - The Connecticut Supreme Court overturned a ban on same-sex marriage on Friday in a victory for gay-rights advocates that will allow couples to marry in the New England state.
The court found that the state's law limiting marriage to heterosexual couples discriminates on the basis of sexual orientation.
Connecticut is now the third state in the country to allow gay marriage, following neighboring Massachusetts, the first state to allow it, and California. Connecticut already permitted same-sex civil unions that grant largely the same state rights as to married couples, but lack the full, federal legal protections of marriage.
From the decision:
Gay persons have been subjected to and stigmatized by a long history of purposeful and invidious discrimination that continues to manifest itself in society. The characteristic that defines the members of this group—attraction to persons of the same sex—bears no logical relationship to their ability to perform in society, either in familial relations or otherwise as productive citizens. Because sexual orientation is such an essential component of personhood, even if there is some possibility that a person's sexual preference can be altered, it would be wholly unacceptable for the state to require anyone to do so.
Gay persons also represent a distinct minority of the population. It is true, of course, that gay persons recently have made significant advances in obtaining equal treatment under the law. Nonetheless, we conclude that, as a minority group that continues to suffer the enduring effects of centuries of legally sanctioned discrimination, laws singling them out for disparate treatment are subject to heightened judicial scrutiny to ensure that those laws are not the product of such historical prejudice and stereotyping.
THIS CALLS FOR ORANGE MOCHA FRAPPUCCINO, Y/Y?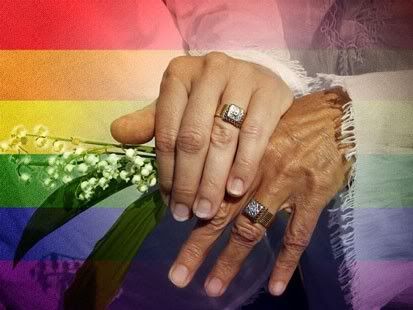 The California Supreme Court has overturned a gay marriage ban in a ruling that would make the nation's largest state the second one to allow gay and lesbian weddings.
The justices' 4-3 decision Thursday says domestic partnerships are not a good enough substitute for marriage. Chief Justice Ron George wrote the opinion.
The city of San Francisco, two dozen gay and lesbian couples and gay rights groups sued in March 2004 after the court halted San Francisco's monthlong same-sex wedding march.
(
the article
Collapse
)
What a good thing to hear right after school. Yay California!